All Celebrations now in the new Location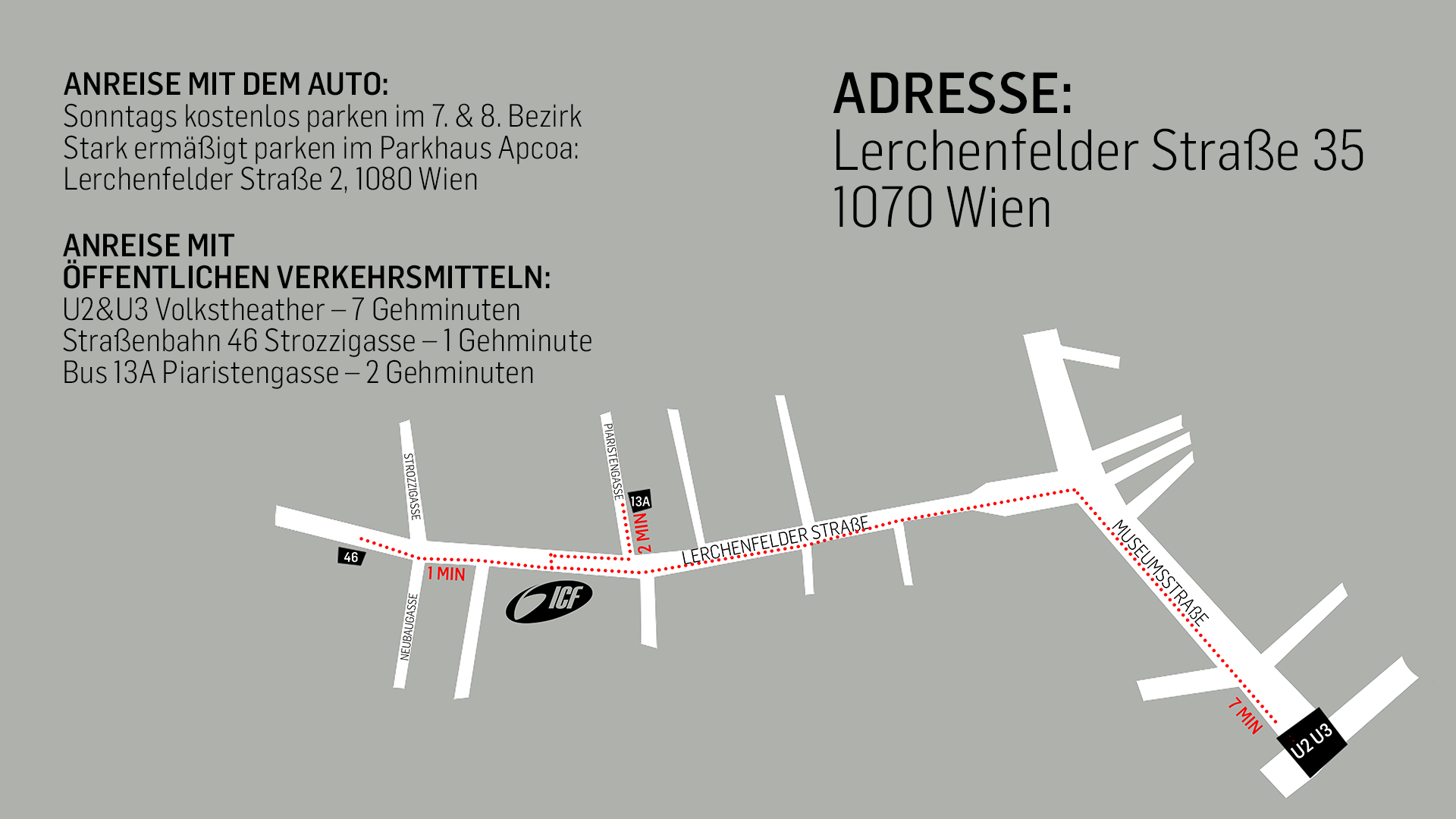 EXPERIENCE CHURCH IN A NEW WAY!
Our highlight every Sunday are the Celebrations – our weekly church services. And we want them to be something different: loud, joyful and passionate.
Current Information
NEWS! News Location: Lerchenfelder Straße 35, 1070 Wien
Live-Celebrations take place at 11:00 with ICF Kids and 19:00
If you have one, please bring a face mask. If not, we can also provide you with one on arrival.
If you belong to a high-risk group, we ask you to remain home and participate through the live stream!
March 7. 2021 – Robert Bauer
#Jesus2021: Warum Gott dir treu bleibt
| | |
| --- | --- |
| 11:00 | ICF MORNING CELEBRATION |
| 17:00 | ICF EVENING CELEBRATION |
ICF VIENNA
Lerchenfelder Straße 35
1070 Wien
Near U-Bahn station U3 Volkstheater
| Date | Subject | Preacher |
| --- | --- | --- |
| March 7. 2021 | Warum Gott dir treu bleibt | Robert Bauer |
| March 14. 2021 | So wirst du wie Jesus | René Schubert & Sebastian Biber |
| March 21. 2021 | So bleibst du an Gottes Seite | Jasmin Jahn |
| March 28. 2021 | Was kostet der Himmel? | Alex Haselgruber |
#Jesus2021


the current
series at ICF

Der Name Jesus Christus ist so erstaunlich und voller Kraft. Was würde passieren, wenn jeder ihn persönlich kennenlernen könnte? Wenn jeder seine Liebe, seine Annahme und seine Kraft erlebt? Wie würde dann unser aller Leben aussehen? In dieser Zeit wollen wir entdecken, wie Gott uns mit unserer Art gebrauchen kann, dass dies geschieht: seine Liebe und Annahme fliesst zu den Menschen um uns herum. Lass dich auf das Abenteuer ein und entdecke Gottes Geheimnis von Seinem Auftrag.
OFFERS DURING THE CELEBRATION
NEXT STEP LOUNGE
We are here for you before and after each celebration.
Ask your questions and pick up your welcome gift.
ICF Kids
During the morning Celebration we offer ICF KIDS program with live screening in the babyroom.
Welcome Home Group
The Welcome Home Group is the best opportunity to discover God's great plan for your life and to get to know ICF. It lasts four weeks and takes place for 30 minutes after each celebration.
Stop by, no application necessary.
BAR & LOUNGE AREA
Are you hungry or thirsty? Very well, just come earlier or stay after at ICF. Our bar takes care of your stomach and offers space for socializing.