Corona News Update
Due to the newest Covid regulations related to our health and safetly, the celebration next Sunday  (22.11.2020) will take place exclusively over our Livestream!  We cannot receive any visitors on location in the ICF.
All Celebrations now in the new Location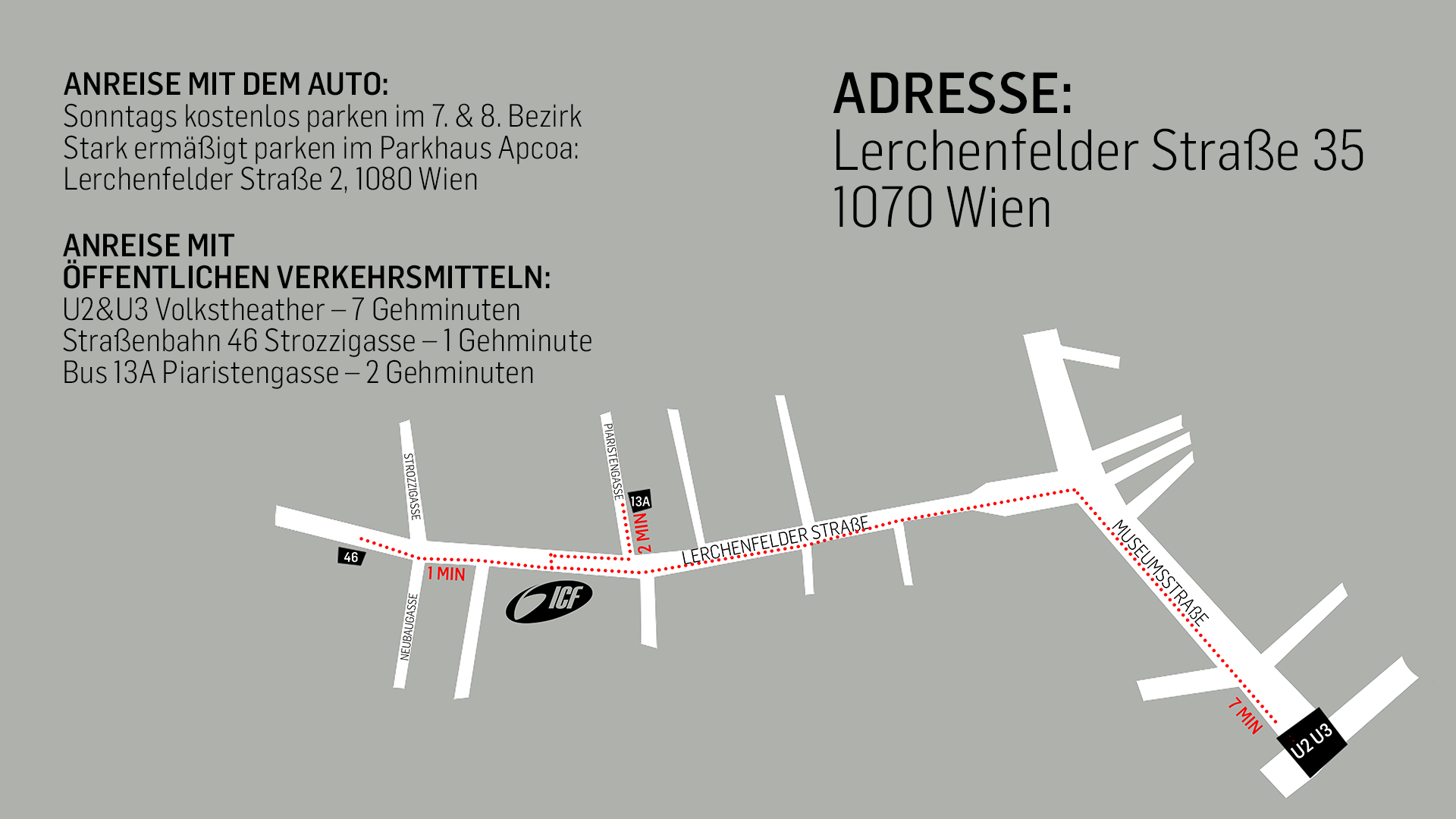 EXPERIENCE CHURCH IN A NEW WAY!
Our highlight every Sunday are the Celebrations – our weekly church services. And we want them to be something different: loud, joyful and passionate.
Current Information
NEWS! News Location: Lerchenfelder Straße 35, 1070 Wien
Live-Celebrations take place at 11:00 with ICF Kids and 19:00
If you have one, please bring a face mask. If not, we can also provide you with one on arrival.
If you belong to a high-risk group, we ask you to remain home and participate through the live stream!
November 29. 2020 – Hannes Schmid
Weihnachten neu erleben: Glaube als Herausforderung
11:00
ICF MORNING CELEBRATION
with English translation
ICF Kids
17:00
ICF EVENING CELEBRATION with English translation on demand
ICF VIENNA
Lerchenfelder Straße 35
1070 Wien
Near U-Bahn station U3 Volkstheater
| Date | Subject | Preacher |
| --- | --- | --- |
| November 29. 2020 | Glaube als Herausforderung | Hannes Schmid |
Weihnachten neu erleben


the current
series at ICF

Fürchtet euch nicht! Ich verkünde euch eine Botschaft, die das ganze Volk mit großer Freude erfüllen wird:
Heute ist für euch in der Stadt, in der schon David geboren wurde, der versprochene Retter zu Welt gekommen. Es ist Christus, der Herr.
Lukas 2/10-11
OFFERS DURING THE CELEBRATION
NEXT STEP LOUNGE
We are here for you before and after each celebration.
Ask your questions and pick up your welcome gift.
ICF Kids
During the morning Celebration we offer ICF KIDS program with live screening in the babyroom.
Welcome Home Group
The Welcome Home Group is the best opportunity to discover God's great plan for your life and to get to know ICF. It lasts four weeks and takes place for 30 minutes after each celebration.
Stop by, no application necessary.
BAR & LOUNGE AREA
Are you hungry or thirsty? Very well, just come earlier or stay after at ICF. Our bar takes care of your stomach and offers space for socializing.